Hallo Ihr Lieben,
heute gibt es einen ganz besonderen Beitrag von mir, denn es ist mal wieder Candy Time
Ich habe einen kleinen Sneak Peek für Euch vorbereitet, mit dem goldigen Motiv *Love Grows* aus der brandneuen
Lili of the Valley
Kollektion, die ab dem 11. Januar 2011 auf der
Lili of the Valley Webseite
erhältlich ist. Das muss natürlich gefeiert werden und deshalb sponsert Lili of the Valley gleich zwei von den brandneuen Motiven. Ihr habt also die Chance, bei mir die Motive
Dandelion Clock
und Love Grows, siehe Sneak Peek ;o) zu gewinnen.
Hier noch die Regeln:
- bitte postet mein Candy auf Eurem Blog (Sidebar)
- hinterlasst mir einen Kommentar unter diesem Post
- wenn Ihr mögt, tragt Euch in meine Follower Liste ein
-
Ihr habt dafür Zeit bis morgen (Montag, 10.01.2011), um Mitternacht.
Viel Glück!!
Jetzt wünsche ich Euch noch einen schönen Sonntag und vielen Dank für´s Vorbeischauen.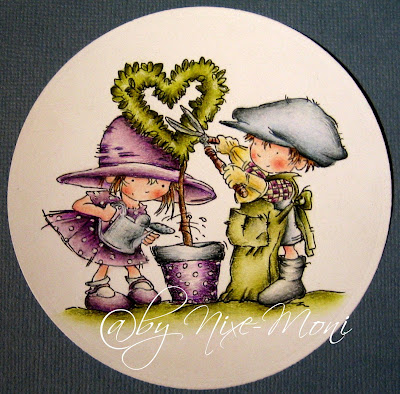 Hier noch die Liste der anderen DT´s, die auch jeder ein super tolles Candy verlosen.
here´s a list of the rest of the DT that are offering candys too.
Hi dear all,
today I have a special post for you, because it´s candy time
I`ve prepared a little sneak peek for you, with the very cute image *Love Grows* from the brand new
Lili of the Valley
Collection, which will be released on 11th January 2011 at the
Lili of the Valley Webseite
. This calls for a celebration and therefore is Lili of the Valley sponsering the two brand new images
Dandelion Clock
und Love Grows (see sneak peek).
Here are the rules:
- please post my candy on your blog (sidebar)
- leave me a comment on this post
- if you´d like, follow me
-
This candy ends tomorrow, Monday January 10th, 2011, midnight.
Good luck!!
Have a wonderful sunday and thanks for swinging by.
Hugs
Nixe-Moni