Hallo Ihr Lieben,
hier bin ich endlich mal wieder, mit meinem neusten Werk ...
Die neue Ausgabe vom
Stempeleinmaleins
ist längst raus, diesmal mit einer tollen Anleitung für eine Schneeflockenkarte von unserer Gastdesignerin
Karla
. Ich habe mich für ein total süßes hÄnglar Motiv entschieden, welches ich schon längst mal verarbeiten wollte und außerdem die Farbe blau gwählt. Auch hier durften natürlich eine Menge Glitzer nicht fehlen, was man leider auf dem Foto nicht erkennen kann.
Bei der Challenge von
Kreative Stempelfreunde
lautet das Thema *Winter*, ebenso wie bei der Challenge von
Stempel-Magie
. Das Team von
Papertake Weekly
hat sich das Thema *kalt und frostig* ausgedacht und bei der Challenge von
Hanna and Friends
möchte man gerne Werke zum Thema *Schnee* sehen.
Vielen Dank für´s Vorbeischauen und habt ein tolles Wochenende.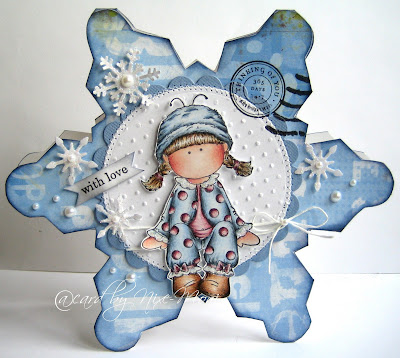 Hi dear all,
at last I have time
again to show you my newest creation ...
today has started a new issue of the
Stempeleinmaleins
, this week with a great tutorial for a snowflake card, from our guest designer
Karla
. Since a long time I wish to colour the super cute hÄnglar image and now it´s finally done. I also thought the colour blue matches great with a snowflake card and I used again a lot of glitter, unfortunately you can´t even see it so good.
At the challenge of
Kreative Stempelfreunde
the theme is called *Winter*, just as with the challenge
Stempel-Magie
. The team of the
Papertake Weekly
Challenge has invented the theme *cold and frosty* and at the challenge of
Hanna and Friends
the team would like to see creations to the theme *Snow*.
Thanks for swinging by today and enjoy the weekend.
Hugs
Nixe-Moni
Spruch/Sentiment:

Magnolia & Stampin`Up!
Medium:

Prismacolor Pencil & White Spirit