[Enthält Werbung - unbezahlt]
Hallo Ihr Lieben,
wie jeden Dienstag, startet auch heute wieder eine neue Challenge auf dem Everybody-Art-Challenge Blog und diesmal möchten wir gerne Eure Werke zum Thema *Stanzen* sehen. Ich habe einen Adventskalender gewerkelt, die tolle Anleitung dafür findet Ihr beim Stempeleinmaleins, wo meine liebe Freundin Tanja Euch genau zeigt, wie man ihn macht.

Nun zur Gestaltung meines Kalenders ... Ich habe die einzelnen Schächtelchen mit Acrylfarbe angemallt und dafür habe ich die Farbtöne weiß, azurblau und atlantikblau gemischt. Auch die Unter- und Oberseite, die ich mit den Spellbinders Labels one ausgestanzt habe, sind damit angemalt worden. Die tolle, große Schneeflocke ist auch eine Spellbinders Stanze und diese habe ich mit ganz viel Glitter überzogen, wie auch die Ränder der Labels one und dem Fancy Tag Die von Spellbinders.
Bei der Challenge von Stampin for the Weekend lautet das Thema *Winter* und bei der Challenge von Pattie´s Creations sollen wir *alles außer einer Karte* machen. Außerdem möchte das Team von der Secreat Crafter Saturday Challenge gerne *Handmade Christmas Gifts* sehen.

Nun wünsche ich Euch noch einen tollen Tag und vielen Dank das Ihr mal wieder bei mir vorbeigeschaut habt.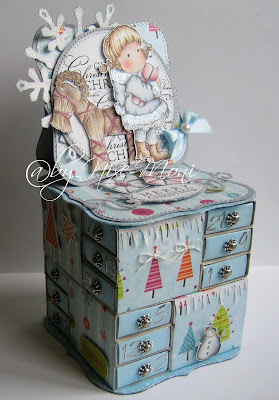 Hi there everyone,
today is starting a new challenge over at the Everybody-Art-Challenge Blog and this week we would love to see creations to the theme *Shapes*. I`ve made a little Advent Calendar, you can find a tutorial for it at the online magazine Stempeleinmaleins, where my dear friend Tanja show you how to do it.
I´ve painted the small boxes with acrylic paints which I mixed with the colours white, azure and atlantic, just like the bottom and the top, which I´ve made with my Spellbinders Labels one. The great big snowflake is also a Spellbinders Die and these Die I covered with a lot of glitter, as well as the borders on the Labels one and the Fancy Tag Die from Spellbinders.
At the challenge of Stampin for the Weekend the theme is called *Winter* and over at the challenge of Pattie´s Creations we should made *anything but a card*. And the team of the Secreat Crafter Saturday Challenge would like to see *Handmade Christmas Gifts*
Have a great day and thanks for stopping by.
Hugs
Nixe-Moni
Medium:

Prismacolor Pencil & White Spirit