[Enthält Werbung - unbezahlt]
Hallo Ihr Lieben,
hier bin ich wieder mit meinem neusten Werk ...
Es ist eine Karte die ich für die neue Everybody-Art-Challenge gemacht habe, wo wir diesmal gerne Eure Werke zum Thema *Monochromatic Brown* sehen wollen. Nun bin ich schon gespannt, was Euch dazu so einfällt.
Ich habe mir diesmal den tollen Sketch von der Sunday Sketch & Stamp Challenge ausgesucht und bei der Challenge von Kreative Stempelfreunde lautet das Thema *Vintage*. Außerdem möchte das Team von Magnolia Down Under gerne *Shabby Chic* Kreationen sehen, deshalb habe ich meine Karte auch wieder schön shabby gemacht.
Habt noch einen schönen Abend und vielen Dank für`s Vorbeischauen.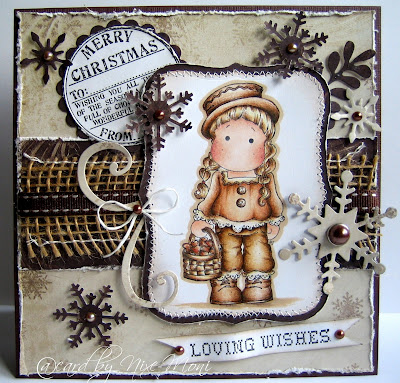 Hello my dear blog readers,
here I am again with my latest creation ...
It´s a card for the new challenge over at the Everybody-Art-Challenge Blog and this time we would love to see *Monochromatic Brown* creations. I hope you will join us and I´m looking forward to see what you come up with.
I decided to use the great sketch of the Sunday Sketch & Stamp Challenge and over at the challenge of Kreative Stempelfreunde the theme is called *Vintage*. I gave my card again a shabby look, because at the challenge of Magnolia Down Under the theme is called *Shabby Chic*.
Have a nice evening and thanks for stopping by.
Hugs
Nixe-Moni
Medium:

Prismacolor
Pencil & White Spirit