[Enthält Werbung - unbezahlt]

Hallo meine lieben Blogleser,
hier bin ich mal wieder, mit meiner neusten Karte, die ich für die aktuelle Everybody-Art-Challenge gemacht habe. Diese Woche hat sich unsere liebe Tina einen tollen Sketch für Euch ausgedacht und ich bin schon ganz gespannt, was Ihr schönes daraus zaubert.
Bei der Challenge von Stamp Something lautet das Thema *Weihnachtskarte oder Weihnachtsfarben* und bei den Challenges von Stampavie and more und Dutch Dare Card Challenges gibt es das Thema *Weihnachten oder Weihnachtskarten*, genauso wie bei der Challenge von der Secret Crafter Saturday Challenge, denn auch dort möchte das Team gerne Karten zum Thema *Weihnachten* sehen.
Habt noch einen schönen Abend und vielen Dank für´s Vorbeischauen.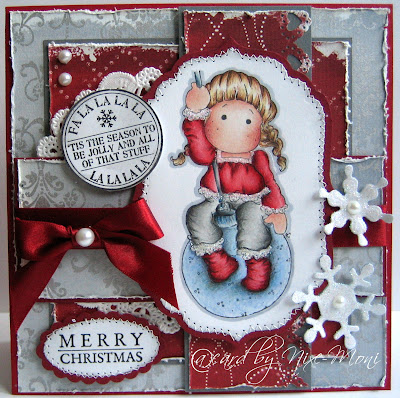 Hello my dear blog readers,
here I am again with another card of me, which I´ve made for the current Everybody-Art-Challenge. Our dear Tina has invented a great sketch for you this week and I´m looking forward to see what you come up with.
At the challenge of Stamp Something the theme is callend *Christmas card or Christmas colours* and over at the challenge of Stampavie and more and Dutch Dare Card Challenges there is the theme *Christmas or Christmas card*, just the same as at the Secret Crafter Saturday Challenge, because the team would love to see creations to the theme *Christmas*.
Have a nice evening and thanks for stopping by.
Hugs
Nixe-Moni
Medium:

Prismacolor Pencil & White Spirit