[Enthält Werbung]
Hallo Ihr Lieben,
heute möchte ich Euch gerne mein neustes Werk zeigen ... es ist eine Karte, für die ich mir diesmal das Motiv *Birthday Fairy* aus der neuen Kollektion von Lili of the Valley ausgesucht habe. Findet Ihr die Kleine nicht auch total goldig?
Den tollen Sketch findet Ihr übrigens bei der neuen Lili of the Valley Challenge und bei der ABC Challenge möchte das Team gerne Werke zum Thema *Magical* sehen. Wie Ihr seht, habe ich eine Menge Knöpfe verwendet, denn bei The Crazy Challenge lautet das Thema *Knöpfe*, genauso wie bei der Challenge von Stempelträume.
Vielen Dank, dass Ihr wieder bei mir vorbeigeschaut habt und ich wünsche Euch noch einen schönen Abend.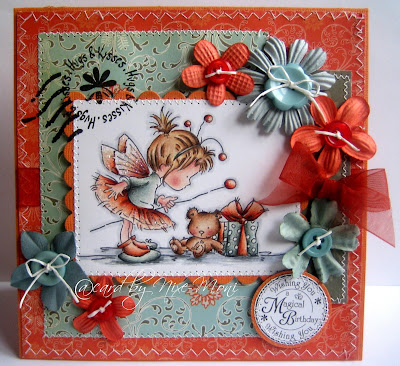 Hi dear all,
today I would like to show you my latest creation ... it´s a card for which I`ve chosen the image *Birthday Fariy* from the new Lili of the Valley Collection. Isn´t she so cute? If you want to see more of the sweet images hop over to Lili of the Valley and get some inspiration :o)
You can find the great sketch over at the new challenge of Lili of the Valley and the team of the ABC Challenge would like to see creations to the theme *Magical*. As you can see, I used a lot of Buttons, because at The Crazy Challenge the theme is called *Buttons*, as well as at the challenge of Stempelträume.
Thanks so much for stopping by today and I wish you a nice evening.
Hugs
Nixe-Moni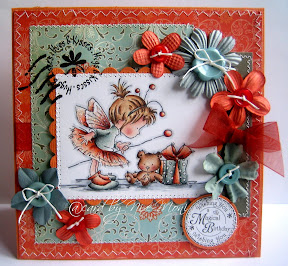 Medium:

Prismacolor Pencil & White Spirit