[Enthält unbezahlte Werbung]
Hallo Ihr Lieben,
hier kommt meine neuste Karte, die ich für die Everybody-Art-Challenge gemacht habe. Wir möchten diese Woche gerne Eure Werke zum Thema *Schnee* sehen.
Ich habe mir diesmal tolles Papier von Bo Bunny ausgesucht und die goldige Tilda passend dazu angezogen. Auf die Schneeflocken habe ich wieder eine Menge Glitter gepackt und deshalb glitzert jetzt nicht nur meine Karte, sondern auch mein ganzer Bastelbereich incl. mir ;o)
Das Team von der Dutch Dare Card Challenge möchte gerne auf unseren Werken *genähtes* sehen und bei der Challenge von Crafty Cardmakers lautet das Thema *benutzt Stifte*.
Vielen Dank für´s Vorbeischauen und ich wünsche Euch einen schönen Tag.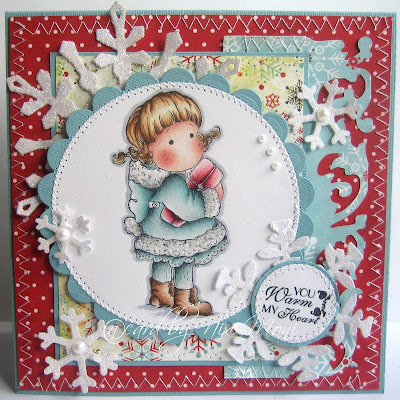 Hi dear all,
this is my latest card, which I´ve made for the new Everybody-Art-Challenge. This week we would love to see your creations to the theme *snow*.
This time I selected some great papers of Bo Bunny and therefore I colored sweet Tilda suitably to it. I also covered a lot of glitter on the snowflakes, so that now my craftroom inclusive myself is sparkle too ;o)
The team of the Dutch Dare Card Challenge would like to see *stiching* on the creations and over at the Crafty Cardmakers the theme is called *Spotlight on Pencils*.
Thanks for stopping by today and I wish you a wonderful day.
Hugs
Nixe-Moni
Medium:

Prismacolor Pencil & White Spirit